Bean Bar You was founded by us, Alison Pearce and Chris Brown, at the start of 2016.  Alison has always loved chocolate, but discovered the bean to bar chocolate movement in Europe and will never be the same again. After hearing Alison go on (and on!) about it, Chris tried some and is now well and truly hooked too!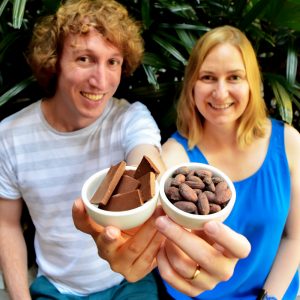 We love knowing the source, quality and ethics of our favourite treat. Moving home to Sydney we were devastated to realise how limited the selection of craft chocolate available in Australia was. Even despite the booming Australian chocolate scene, many local chocolate makers only had their bars available in their local area.
We started Bean Bar You as a way access great chocolate for ourselves and chocoholics around Australia. With backgrounds in statistics and health economics, we leverage our analytic skills to create a truly personalised chocolate subscription service! We realise how important it is to educate the community about the benefits of craft chocolate, so have started doing education activities such as tasting events, and have introduced collaborative efforts to support chocolate makers.
We've tasted more different craft chocolate bars than anyone in Australia.  Well that's unofficial… In July 2021 we celebrated our 5th year of sending monthly subscriptions and over the years we've sold over 500 unique bars from 130+ different chocolate makers (and yes, quality assurance testing / tasting is an important part of our job). We've also sampled bars from many makers who haven't made it into our subscription yet + experimental bars from people testing new products. What have we learnt from tasting & sharing so many chocolate bars? We know what kinds of bars we like and we know how much work goes into making a truly fabulous bar of chocolate. We also know (from the data we collect) that everyone has a unique preference when it comes to chocolate. There will always be someone who loves something we don't and visa-versa. Chocolate is personal – it's our mission to find you your perfect chocolate. 
We love talking about chocolate so connect on social media or contact us now.